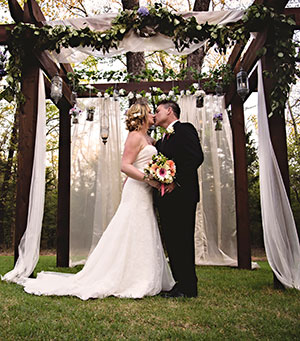 Our wedding at Whispering Oaks was gorgeous!
We had our wedding at Whispering Oaks in March, and it was gorgeous! The venue far exceeded my expectations and the pictures are like a dream. I still get compliments weekly on in how gorgeous everything was. Jessica has been meticulous in building and designing every detail to make Whispering Oaks a stunning backdrop for your event. If you are looking for a venue that has it all, it is worth the drive to Valley View to check it out. You will not be disappointed! Thank you Jessica for everything!
Tony and Kimberley Ellis
---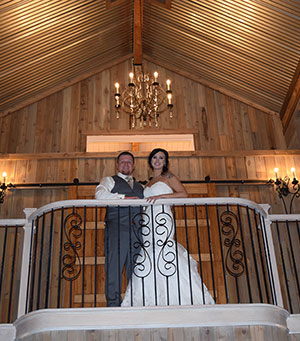 Our wedding at Whispering Oaks was perfect!
Want to give a shout out and send a HUGE thank you to Jessica Dixon, her family and Whispering Oaks!! Our wedding could not have been any more beautiful and perfect.
We actually were the first ones to book a wedding here when everything was just a vision and a dream. When we first showed up to Whispering Oaks, it literally was just graded dirt. All we had to go by was rendered photos and Jessica walking us around demonstrating where and what everything was going to be. We called her within an hour of leaving and booked it, knowing we were taking a huge gamble with this dream of theirs. But let me tell you, it is a gamble I would take with them over and over again. This place was built with the love of their customers in mind.
This is not a venue that just sits back and watches and just hopes everything goes accordingly. Jessica will jump in head first to help decorate, move tables where you want, and anything else where an extra hand is needed. Not just prior to the wedding was she a huge help, but during the ceremony she was running around getting people seated and making sure our time of events was in order just how we planned. During the reception, she was doing an absolutely amazing job, behind the scenes like she was a coordinator. Between setting up our s'mores table at the firepit, icing down drinks, and actually jumping behind the bar to serve drinks to our guests when our bartender was being lazy, she truly goes above and beyond to make it YOUR day.
Our wedding was absolutely perfect and that couldn't have happened without Jessica and her family building this amazing venue and making our dream wedding happen.
Ashlyn and Carl Hager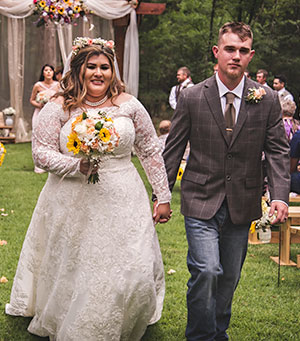 Our perfect wedding day at Whispering Oaks!
I would seriously get married all over again and go through all the gates of hell I was put through to experience my wedding at this venue. Not only is this place THE MOST BEAUTIFUL place on earth but Jessica is the most amazing human being I have ever met. She recommended the florist and she just hit it out of the ball park with the decorations. My hairstylist canceled and she was there with someone and she was amazing. MY PHOTOGRAPHER CANCELLED 8 HOURS BEFORE MY WEDDING STARTED and Jessica was there helping me find a photographer at 1 am and guess what SHE DID and she was AMAZING also. If you're thinking about getting married and you're day being as perfect as mine was I suggest this place. You will not regret it!!!!
Caleb and Cynthia Miller
---